«Drunken barrel» mixing machine in stock on March 10, 2014!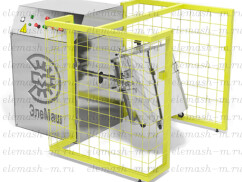 If your production requires mixing of several ingredients «Drunken barrel» mixing machine is ideal equipment for this purpose. By using of this machine it is possible to mix free-flowing, powder, paste, liquid and chemically active components without destruction of the product's structure. The machine can be designed and manufactured strictly according to the customer's requirements to fulfill technological process.
«Drunken barrel» mixing machine has following advantages:
Sound signal at the end of;
Stepless adjustment of the rotation speed of the tank is available;
Rotation time is adjusted by timing device;
Convenient control with control panel;
Stainless steel frame;
Reliable construction.