Vibration sieving machine UP-44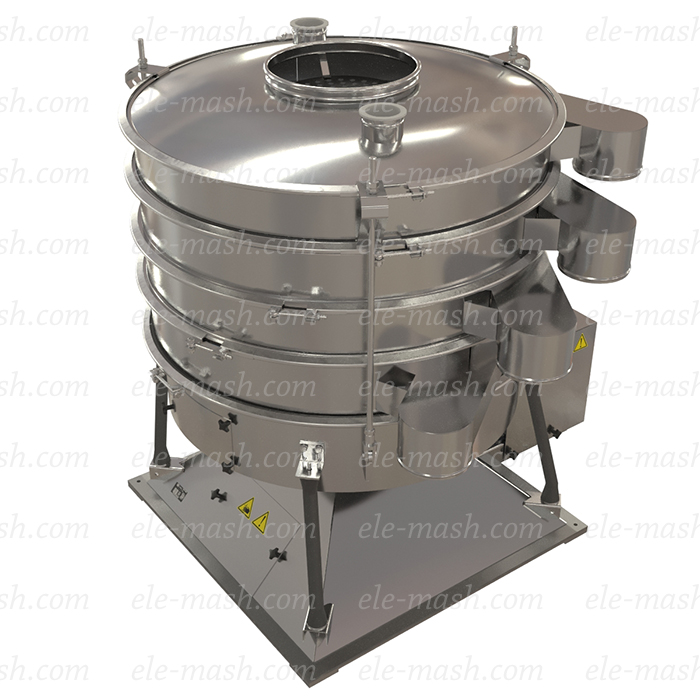 It is designed for sorting granules of bulk products by size.
More...
Price: please ask
Availability: equipment is made to order
Send an enquiry
Description
Technical parameters
Video
It is designed for sorting granules of bulk products by size.


The product is sorted according to the holes dimensions of the sieving trays. The machine is intended for installation and use in food processing, pharmaceutical and chemical industries in production lines, as well as in metallurgical industries, in the production of aluminium powders and its alloys' powders.
The product is a swing type low frequency sieve shaker that provides artificial shaking of the product. The principle is that the movement is a displacement on diameter, which is provided by the circular movement of the shaft (spiral movement), that is, the transformation mechanism generates a non-linear three-dimensional movement in which the material moves in a similar way to the manual sieving.
This machine sorts the product according to the holes sizes of the meshes installed under the sieving trays, and then feeds the sorted product into the product collectors through the output tray and outlets. The spillage of the sorted product through the mesh of the calibration trays is carried out due to vibration caused by the rotating balancers of the conversion mechanism and the effect of gravity.
The product passed through the grids of all the calibrating trays is discharged through the outlet of the lower (output) tray into the prepared container. Product particles larger than the mesh holes under the sieving tray are removed through the outlet of the same tray into a prepared container. The silicone balls placed on the sieve move randomly during vibration and hit the mesh, which improves screening and prevents product fractions from sticking to the mesh.
Information is for reference only. For more details please contact our sales managers.
Vibrating sieve specification
| | |
| --- | --- |
| Model | UP-44 |
| Output capacity* | up to 1500 ÷ 2500 kg/hour |
| Tray diameter | 1200 mm |
| Sieve mesh diameter | 1120 mm |
| Effective sieve diameter | 0.93 m2 |
| Power supply | 380 V/50 Hz ± 5% IP54 |
| Installed power | 1.5 kw |
| Calibration tray quantity |  1 + 1 pc |
| Sieve mesh holes size | 0.25x0.25 + 2.0x2.0 mm |
| Balls quantity on calibration trays | 300 + 300 pc |
| Overall sizes (LxWxH) | 1595x1645x1495 mm |
| Weight | 560 kg |
* The output capacity of the vibrating sieve depends on product features, screen mesh size, and number of working trays and cannot be considered as a final value for any of the models. The output capacity is calculated based on the measurements with flour sieving through the mesh #60.
Technical parameters are for reference only. For more details please contact our sales managers.
No videos for this machine on web-site.


Description
Technical parameters
Video
Contact Us
in Great Britain: +44 7520 64 26 44
  e-mail: info@ele-mash.com